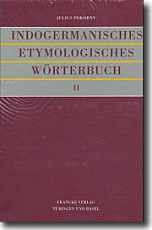 Indogermanisches Etymologisches Wörterbuch (The Indo-European Etymological Dictionary)
Current Version: 2.0 (1 JUN 2011)
The Indogermanisches Etymologisches Wörterbuch, by the Jewish-Czech scholar Julius Pokorny, was published in 1959. The work is now slightly outdated, especially as it was conservative even at the time Pokorny wrote it, ignoring the laryngeal theory, and hardly including any Tocharian or Anatolian material. But there exists no more modern and updated etymological dictionary of the Indo-European languages, so it is still of interest to scholars.
Available formats
WebHelp for Reference and Online Reading and Studying:
Automatic Dictionary-Translator for Quick Reference:
Full HTML Document for use with Search Engines
The Internet Archive original German version scanned:
You can comment on this work in the section Reader Reviews of the Late Indo-European dictionary by Fernando López-Menchero.
Versions' Changes
1 June 2011 :: (v. 2.0) New Version directly from StarLing, without additions.
29/6/07 :: (v. 1.01) There was a translating error in the old version of Starostin's compilation of Pokorny's dictionary under the root 764 "nepōt-". Namely, German "Enkel" (as in the original version of Pokorny's dictionary) does not mean "uncle" (which is Onkel, not Enkel in German), but "grandson". The error has already been corrected by Starostin, but is still present in our PDF. Thanks to Grzegorz Jagodziński